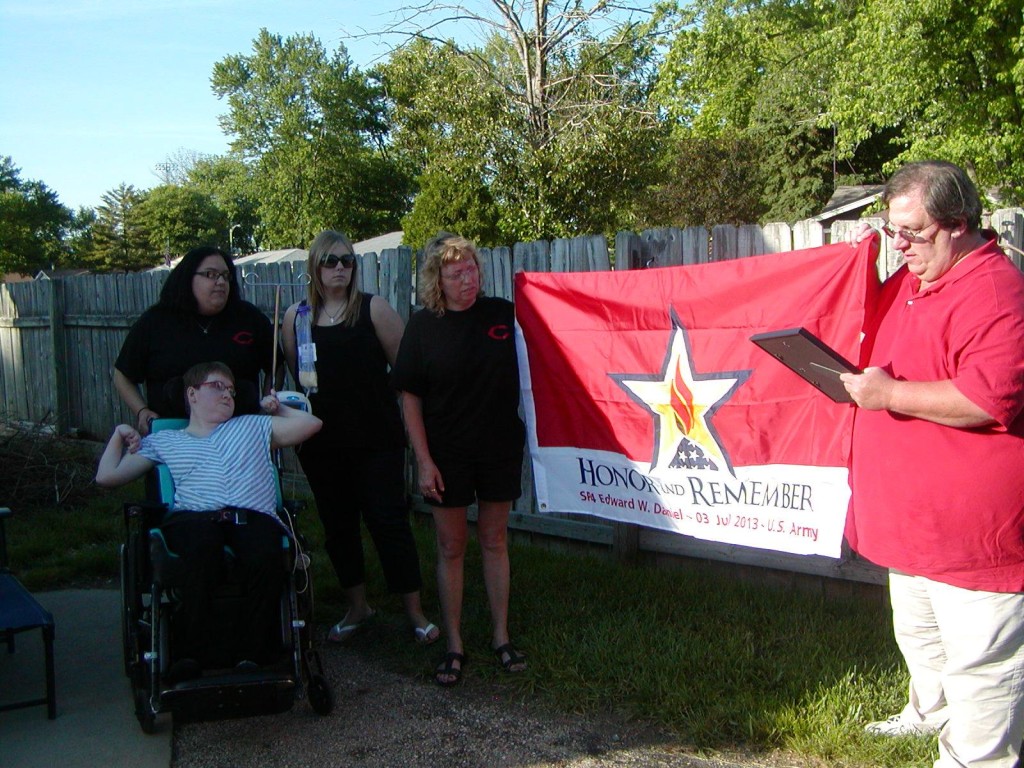 SP4 Edward W. Daniel ~ 03 Jul 2013 ~ U.S. Army
Presenting the flag to Tina Skinner Daniel.  We celebrated his birthday on May 30, 2014.
The planning committee for the 2nd Annual Honor and Remember Concert is pleased to announce that the Air Force Band Systems GO has agreed to perform at this years concert honoring Ohio's fallen Heroes and their families.
The Second Annual Honor and Remember Concert will be a two day event this year held at the new RiversEdge Park and Amphitheater, located along the Great Miami River, next to the Courtyard by Marriott in Downtown Hamilton. The dates are Friday August 9, and Saturday August 10, 2013. Hours of operations are 5:00 PM to 11:00 PM on Friday, 11:00 AM to 11:00 PM on Saturday.
The committee is still looking for area vendors and restaurants to reserve booth space to provide food, drink and other items to the events many attendees.
Tom Mitchell, Ohio Chapter Director, learned that the Air Force Band had accepted the invitation to play earlier this week. They will perform on Saturday afternoon, with other local bands Hard Candy, and Old Skool. The Headliner for Friday Night is Bluegrass favorite NightFlyer. NightFlyer, Hard Candy, and Old Skool all performed at the 1st annual concert, and offered to come back for this years concert.
Along with our normal request and presentation activities, we are going to make 2013 the "Year of the Vietnam Gold Star Family". Why? because most surviving parents are in their late 80's and 90's now, and spouses are in their 60's and 70's. Time is running out to show them that we DO care, and that we DO Honor and Remember their Loved Ones, and their sacrifice will never be forgotten. If you know a family in your area, please contact us at ohchapter@honorandremember.org We also need donations to sponsor these flags. George Lutz has a flag he ordered for a Korean Era Gold Star Mother. In the weeks it took for it to get made, that Gold Star Mother passed away. The key to the success of this effort is having the money immediately available to order flags as soon as a Mother/Father/Spouse is identified.
Please consider making your tax deductible donation to
Honor and Remember of Ohio
P.O. Box 13079
Hamilton Ohio 45013
or make a donation via the Donate tab on this page.