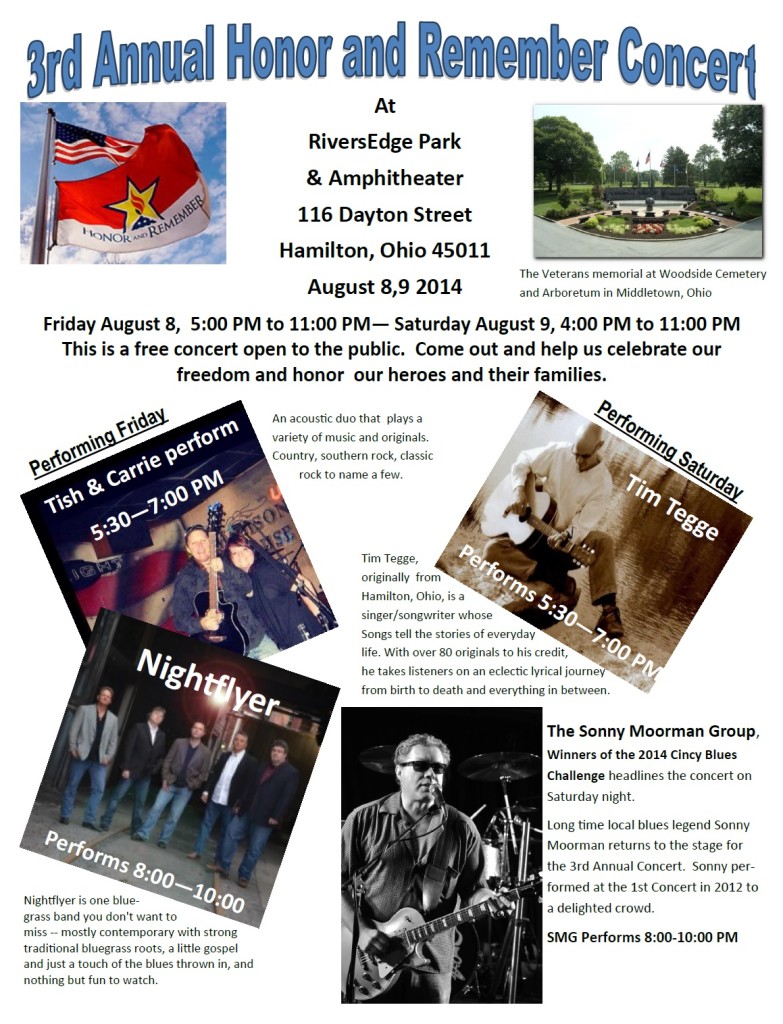 Nightlfyer has been added as the Headliner for Friday Night performing from approximately 8:00 PM to 10:00 PM.
The Sonny Moorman Group has just agreed to headline the concert on Saturday August 9th.  They will be performing from approximately 8:00 PM to 10:00 PM.
The planning committee for the 2nd Annual Honor and Remember Concert is pleased to announce that the Air Force Band Systems GO has agreed to perform at this years concert honoring Ohio's fallen Heroes and their families.
The Second Annual Honor and Remember Concert will be a two day event this year held at the new RiversEdge Park and Amphitheater, located along the Great Miami River, next to the Courtyard by Marriott in Downtown Hamilton. The dates are Friday August 9, and Saturday August 10, 2013. Hours of operations are 5:00 PM to 11:00 PM on Friday, 11:00 AM to 11:00 PM on Saturday.
The committee is still looking for area vendors and restaurants to reserve booth space to provide food, drink and other items to the events many attendees.
Tom Mitchell, Ohio Chapter Director, learned that the Air Force Band had accepted the invitation to play earlier this week. They will perform on Saturday afternoon, with other local bands Hard Candy, and Old Skool. The Headliner for Friday Night is Bluegrass favorite NightFlyer. NightFlyer, Hard Candy, and Old Skool all performed at the 1st annual concert, and offered to come back for this years concert.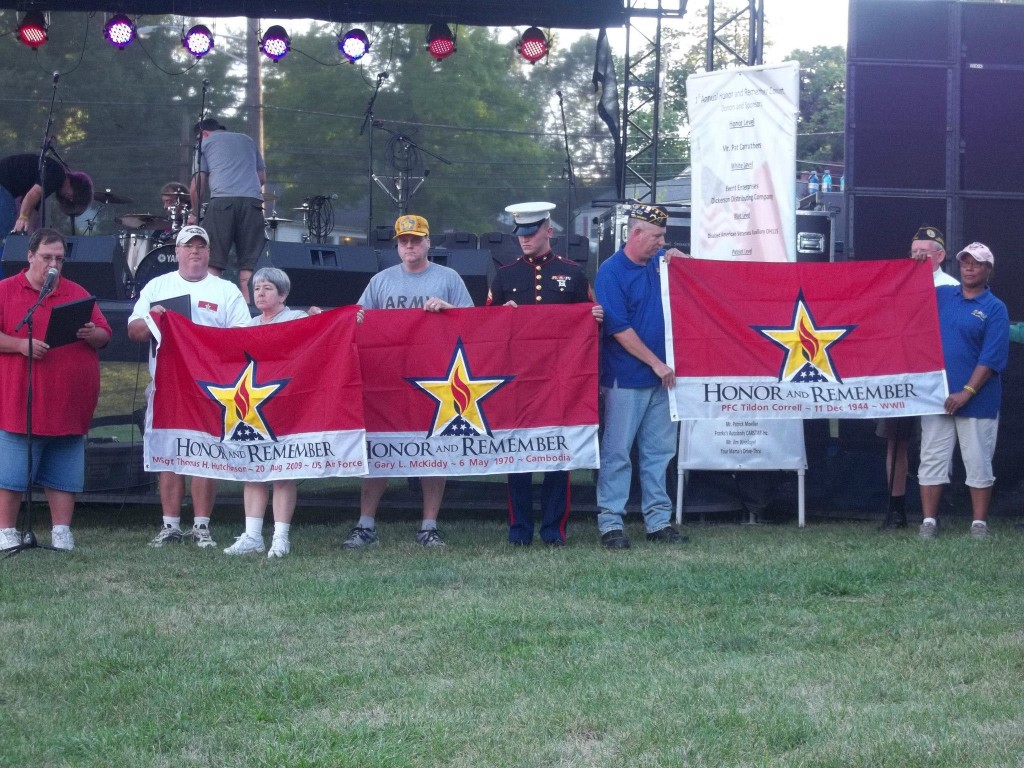 The Families of the following Ohio Heroes received their flags at the 1st Annual Honor and Remember Concert.
Pfc. Tildon Correll ~ 11 Dec 1944 ~ WWII
Sgt. Gary L. McKiddy ~ 6 May 1970 ~ Cambodia
MSgt. Thomas H. Hutchinson ~ 20 Aug 2009 ~ U.S. Air Force
Still tired and sore from the concert on Saturday.  What a great day.   Thanks to the sponsors, the volunteers, and the patrons for coming out.   Of course, I want to thank all of our Heroes that provided the freedom to allow this day to happen.   It will be several days until the dust settles, but I need to have the event application in, in the next 18 days for next years concert.
Some of you have been asking for this.  I updated the flyer at lunch and here is the latest band info for the concert on August 11th.  (in reverse order)
The Sonny Moorman Group www.sonnymoorman.com Performs  7:45 PM – 9:30 PM
Nightflyer www.nightflyerband.com Performs 6:00 PM – 7:15 PM
Tim Tegge – Singer/Songwriter www.reverbnation.com/timteggesingersongwriter Performs 4:30 PM – 5:30 PM
Old Skool www.oldskoolrocks.com Performs 2:00 PM – 4:00 PM
Hard Candy www.hardcandyrock.com Performs 11:00 AM – 1:00 PM
Go to www.ohremembers.org for your concert tickets.  $10 per tickets ages 13 and up, 12 and under FREE.
Gold Star Families FREE – Contact me at ohchapter@honorandremember.org for your tickets.