Raffle tickets are ON SALE NOW for the 2019 Patriot Heritage Quilt Raffle. A BEAUTIFUL 58.5″x 70″ quilt made and donated to the Ohio Chapter by Freddie Lampl here in Hamilton. Tickets are 1 for $5, 5 for $20. Winner to be announced at the 2019 "Honor Their Sacrifice" Benefit held on Saturday September 28, 2019 (See Calendar). Make your checks out to Honor and Remember of Ohio, and send to Honor And Remember of Ohio, PO Box 13079, Hamilton, Ohio 45013. Our website is not accepting orders right now, but hope to have it up in a week.
The last 7 days have been busy, but very inspiring. Thursday the 6th we had a flag presentation. Friday the 7th, we had a flag presentation in Dayton. Saturday the 8th we joined hundreds of friends and family at the Let Us Never Forget Scholarship Dinner. Had a great meeting today with John Prazynski. Tonight, we ordered 4 flags, and will order one more as soon as the phone rings with some much needed info.
The Music Festival is going full speed ahead as you can see by the posts thanking sponsors. We ALWAYS need more sponsors. We put the festival on every year so that our families can come together and visit, but it would be wonderful to use it as a fundraiser for more personalized flags.
We've been invited to attend the Patriot Freedom Festival in Dayton this year that is held each year over the Memorial Day Weekend.
I have also been working on a project for our national organization finding some of the first flag requesters in our organizations history, and we are in the planning stages for some very special long distance flag presentations.
To become a Music Festival Sponsor, you can go to oh.honorremember.org/music-festival/ for details, and how to donate.
Bands are set for the 6th Annual Honor and Remember Music Festival. Friday, August 18, Brass Eagle Squadron and You, Me & Him. Saturday, August 19, Hot Mess Express, Gerhard Albinus, Tim Tegge, Streetwise, and Brass Tracks Band.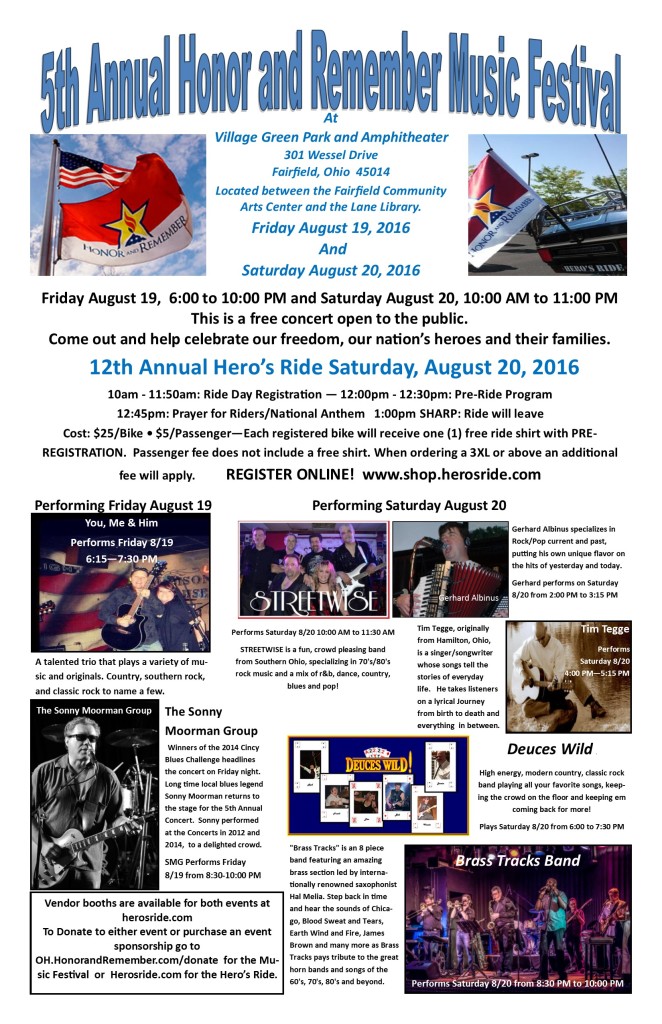 The lineup has been set for the performers at the 5th Annual Honor and Remember Music Festival.  Come out to hear some of the best bands around, and to celebrate our freedom.  Our Fallen Military Heroes and their families will never be forgotten.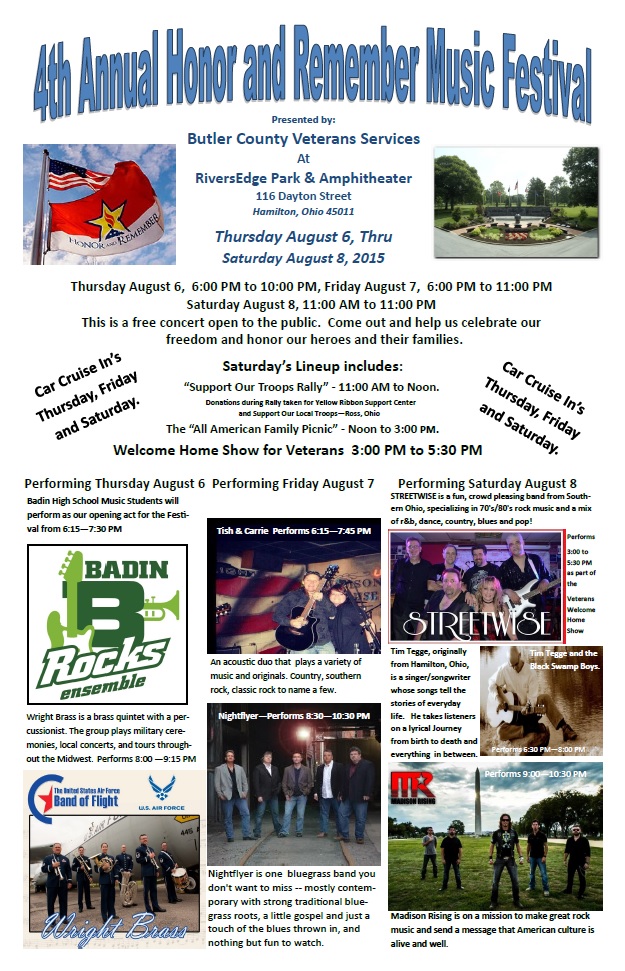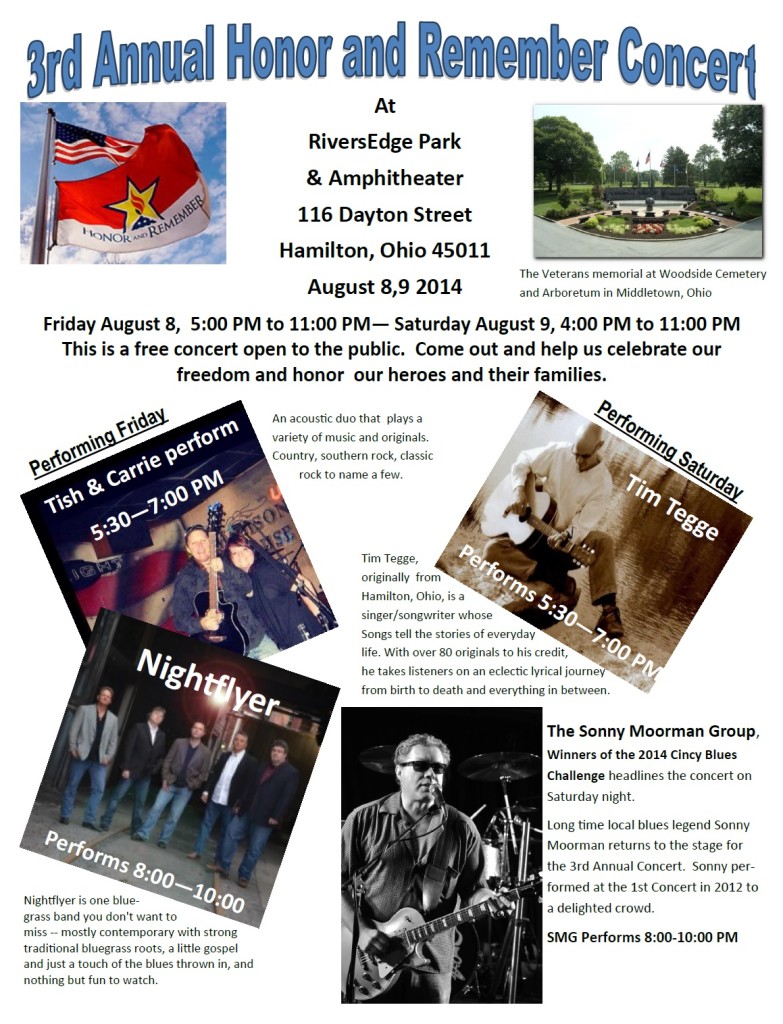 Nightlfyer has been added as the Headliner for Friday Night performing from approximately 8:00 PM to 10:00 PM.
The Sonny Moorman Group has just agreed to headline the concert on Saturday August 9th.  They will be performing from approximately 8:00 PM to 10:00 PM.
The planning committee for the 2nd Annual Honor and Remember Concert is pleased to announce that the Air Force Band Systems GO has agreed to perform at this years concert honoring Ohio's fallen Heroes and their families.
The Second Annual Honor and Remember Concert will be a two day event this year held at the new RiversEdge Park and Amphitheater, located along the Great Miami River, next to the Courtyard by Marriott in Downtown Hamilton. The dates are Friday August 9, and Saturday August 10, 2013. Hours of operations are 5:00 PM to 11:00 PM on Friday, 11:00 AM to 11:00 PM on Saturday.
The committee is still looking for area vendors and restaurants to reserve booth space to provide food, drink and other items to the events many attendees.
Tom Mitchell, Ohio Chapter Director, learned that the Air Force Band had accepted the invitation to play earlier this week. They will perform on Saturday afternoon, with other local bands Hard Candy, and Old Skool. The Headliner for Friday Night is Bluegrass favorite NightFlyer. NightFlyer, Hard Candy, and Old Skool all performed at the 1st annual concert, and offered to come back for this years concert.
Mark your calendars for this years event. It is expanding to a day and a half. Friday August 9th from 5:00 PM to 11:00 PM and Saturday August 10 from 11:0 AM to 11:00 PM. Friday night is country/blue grass night featuring our friends Nightflyer. Saturday is Rock and Roll with headliner Old Skool. Both bands played at the 2012 concert, and asked to come back.
This year, the concert is a FREE event. We hope to have many food and other vendors there for your enjoyment along with the music. Stay tuned for more announcements.
Along with our normal request and presentation activities, we are going to make 2013 the "Year of the Vietnam Gold Star Family". Why? because most surviving parents are in their late 80's and 90's now, and spouses are in their 60's and 70's. Time is running out to show them that we DO care, and that we DO Honor and Remember their Loved Ones, and their sacrifice will never be forgotten. If you know a family in your area, please contact us at ohchapter@honorandremember.org We also need donations to sponsor these flags. George Lutz has a flag he ordered for a Korean Era Gold Star Mother. In the weeks it took for it to get made, that Gold Star Mother passed away. The key to the success of this effort is having the money immediately available to order flags as soon as a Mother/Father/Spouse is identified.
Please consider making your tax deductible donation to
Honor and Remember of Ohio
P.O. Box 13079
Hamilton Ohio 45013
or make a donation via the Donate tab on this page.
Still tired and sore from the concert on Saturday.  What a great day.   Thanks to the sponsors, the volunteers, and the patrons for coming out.   Of course, I want to thank all of our Heroes that provided the freedom to allow this day to happen.   It will be several days until the dust settles, but I need to have the event application in, in the next 18 days for next years concert.
Next Page »